Multiple reporting channels

Employees are not just encouraged, but are required to speak up and to report any suspected or observed violations of the law, the ABB Code of Conduct, or if they are asked to do something that might be a violation.


Reports may be made to a supervisor, a regional or country integrity officer, the chief integrity officer, or the ABB Business Ethics Helpline.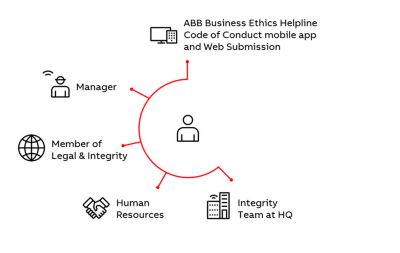 The key is to speak up and bring integrity concerns into the open so that problems can be resolved quickly
Employees may report possible violations anonymously by using the Business Ethics Helpline or by sending an e-mail to the chief integrity officer, using a free e-mail account that does not reveal a name. Employees must be aware, however, that anonymous reports may be more difficult to investigate.
Confidentiality will be maintained to the fullest extent possible. Retaliation against any employee who in good faith reports a concern to the company about illegal or unethical conduct will not be tolerated and be subject to disciplinary action. The same applies to any intentional abuse of these reporting processes.
Reports are received and processed by an independent service provider who forwards the report to the integrity office at ABB headquarters for further review. ABB takes all reasonable steps to ensure the confidentiality of any personal information that you may provide in your report. All reports are subject to appropriate investigation and are brought to full closure using systematic processes and tracking systems.
It is a breach of the ABB Code of Conduct to fail to report a violation or suspected violation that employees know about or to refuse to cooperate with the investigation of a suspected violation.
Each employee is responsible for ensuring that his or her conduct and the conduct of anyone reporting to the employee fully comply with all applicable laws and the ABB Code of Conduct.