Leading the way to the circular economy
To help preserve the Earth's resources for future generations, ABB takes a company-wide approach to circularity, which will enable us to become an industry leader. By 2030, at least 80 percent of our products and solutions will be covered by our circularity approach and evaluated against a clear set of key performance indicators (KPIs), corresponding to each stage of the product lifecycle.
We will also send no waste to landfill, wherever this is compatible with local conditions. Today, close to 40 percent of our 400 sites around the world are already sending no waste to landfill.
ABB's comprehensive circularity approach is built around a framework that – on the one hand – drives circularity in our own operations and – on the other – enables our customers to become more circular. By 2030, we aim to innovate towards new circular business models, covering all stages of the product lifecycle.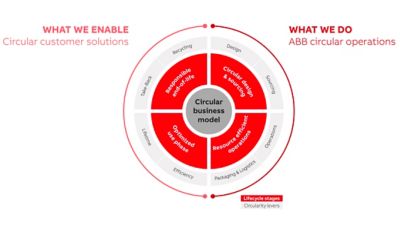 All of our KPIs will be measured according to a clear and transparent scoring system, based on eight circularity levers – two per each stage of the product lifecycle. This systematic and holistic approach allows for continuous improvement.
ABB's circularity approach extends to our suppliers, too. By 2030, our goal is that at least 80 percent of our supply spend in focus countries will be covered by a supplier sustainability framework, which includes environment, but also social and governance performance (ESG).
Making a world of difference
Explore our case studies to discover how ABB and our customers are working together to build a sustainable future.