History of ABB
ABB, together with its predecessor companies, has a history of innovation excellence stretching back more than 130 years. Innovation has been in our DNA since we were founded to take advantage of a new technology called electricity. Since then we have continued to push the boundaries of technology to drive performance to new levels. In this video to celebrate our proud heritage, we take a look at some of the ABB technologies – including automation and digitalization - that have transformed society and industry and are helping us move to a more productive, sustainable future.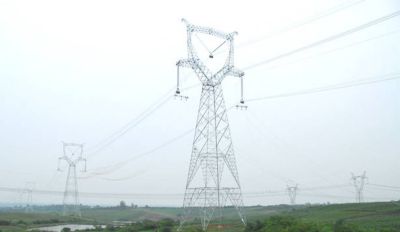 2010
ABB links the Xiangjiaba hydropower plant in southwest China to Shanghai about 2,000 km away with an UHVDC connection with a capacity of ±800 kV and 7,200 MW of power.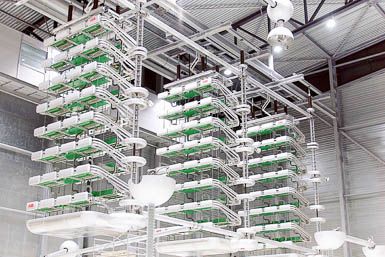 2008
NorNed, the longest submarine HVDC cable in the world at 580 km, links the power networks of Norway and the Netherlands with a transmission capacity of 700 MW.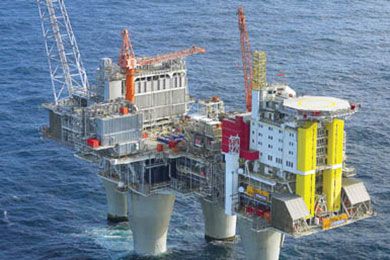 2005
ABB delivers electricity through a DC (direct current) link originating 70 km away on land to a gas platform in the North Sea, helping avoid annual emissions of 230,000 tons of CO2 and 230 tons of NOX.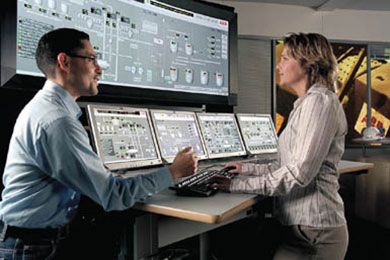 2004
ABB launches its Extended Automation System 800xA providing a process automation system that has since been installed at thousands of applications delivering continuous productivity improvements.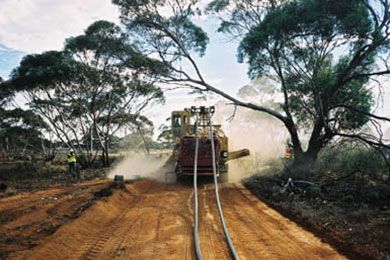 2002
ABB links the AC networks of South Australia and Victoria with the world's longest underground transmission. ABB also linked Conneticut and Long Island with the world's first extruded HVDC submarine transmission.
2000
ABB delivers world's first commercial high-voltage shore-to-ship electric power, helping reduce greenhouse gas emissions from ships berthed at the Swedish port of Gothenburg.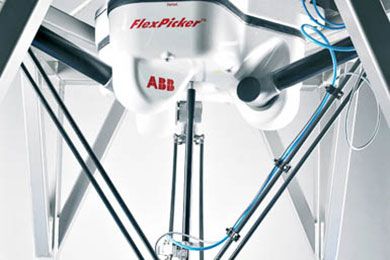 1998
ABB launches the FlexPicker, a delta robot uniquely designed for the picking and packing industry. Today, it's the leader in state-of-the-art high speed robotic picking and packing technology.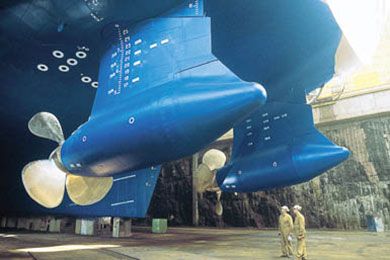 1990
ABB launches Azipod, a family of electric propulsion systems that are fixed to the outside of ships providing both thrust and steering functions. They increase maneuverability, efficiency and the space available on board.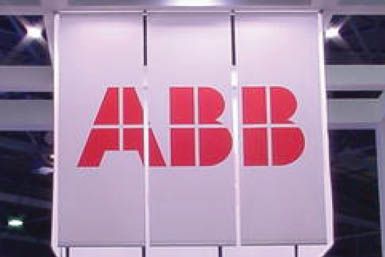 1988
ASEA and BBC merge to form the new company, with headquarters in Zurich, Switzerland. The new group, which started operations on Jan. 5, 1988, had revenues of $17 billion and employed 160,000 people around the world.
Before the ASEA and BBC merger

1986
ASEA employs 71,000 people and reported revenues of $6.8 billion and income after financial items of $370 million.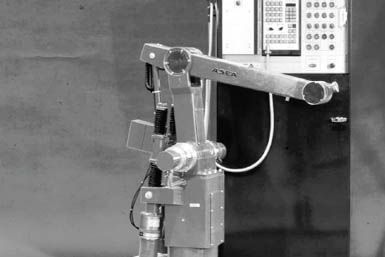 1978
ASEA launches one of the first industrial robots.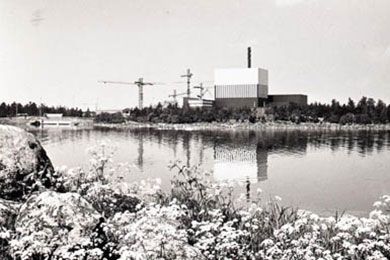 1972
ASEA builds the first nuclear power plant in Sweden and goes on to build nine of the country's 12 reactors.

1963
ASEA achieves a major technological breakthrough with the introduction of an improved thyristor able to handle substantially more electrical current than existing devices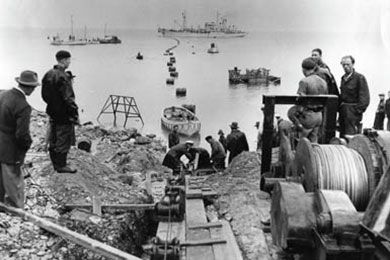 1954
ASEA installs the world's first HVDC transmission line, providing 20 MW, 100 kV to the Isle of Gotland over a distance of 96 km.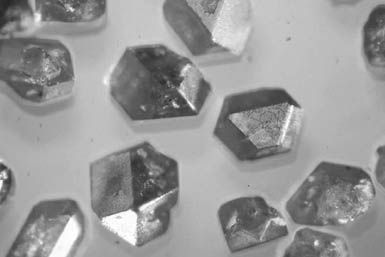 1953
ASEA is the first company in the world to manufacture synthetic diamonds.
1952
ASEA designs and installs the first 400 kV AC cable – a 70 m low pressure oil-filled (LPOF) cable connecting an underground power station (built to withstand an atomic bomb) to the Swedish grid.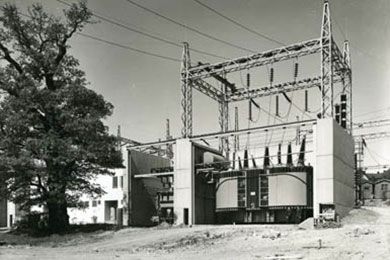 1942
ASEA builds the world's first 120 MVA, 220 kV transformer in the Stockholm Elverks Värtanstation.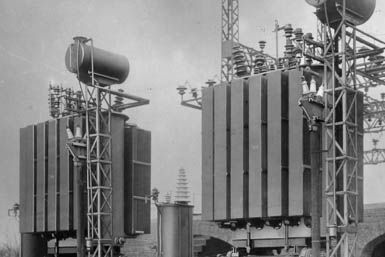 1932
ASEA builds the world's largest self-cooling transformer rated at 2,500 kVA (kilovolt ampere).

1926
ASEA supplies locomotives and power converters for the new Stockholm to Gothenburg railway.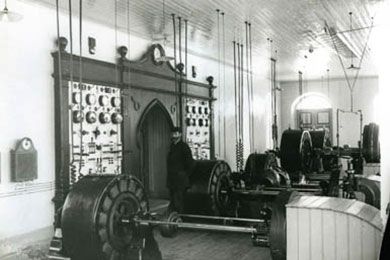 1893
ASEA builds the first three-phase transmission system in Sweden.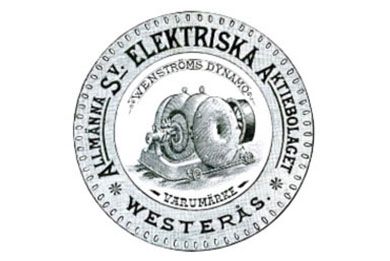 1890
Elektriska Aktiebolaget merges with Wenströms & Granströms Elektriska Kraftbolag to form Allmänna Svenska Elektriska Aktiebolaget, later shortened to ASEA.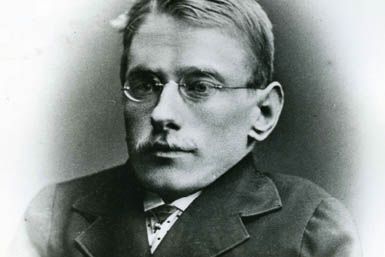 1889
Jonas Wenström invents the three phase system for generators, transformers and motors.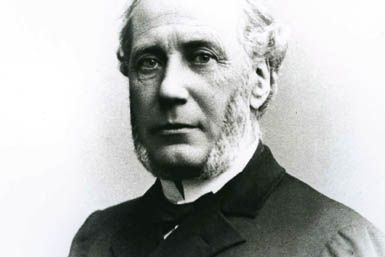 1883
Ludvig Fredholm establishes Elektriska Aktiebolaget in Stockholm as manufacturers of electrical lighting and generators.

1986
BBC employs 97,000 people and reported revenues of $8.5 billion and an income after financial items of $132 million.
1984
Installation of the first of nine BBC generators in the world's largest hydroelectric power station at Itaipú in South America.

1978
BBC starts production of bipolar semiconductors at its dedicated Lenzburg semiconductor facility.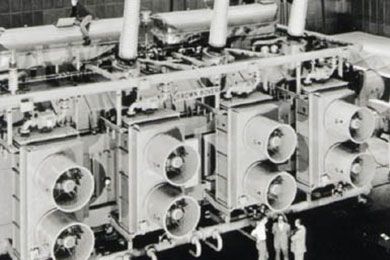 1971
BBC builds the most powerful transformer in the world at 1,300 MVA (megavolt ampere).

1969
BBC develops the first gearless cement drive in the world.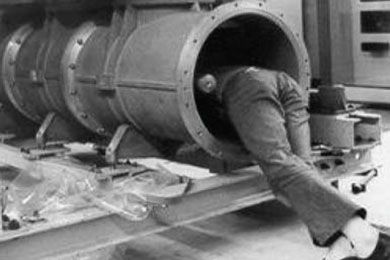 1965
BBC builds the first 110 kV GIS (gas-insulated switchgear) allowing circuit breakers to operate safely in a confined space.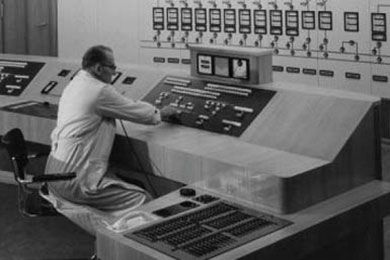 1953
The first data transmission at carrier frequency is performed by BBC over a 735 kV high-voltage line to the power station control unit.
1944
BBC develops the first high-speed locomotive with drive shafts fitted exclusively in bogies.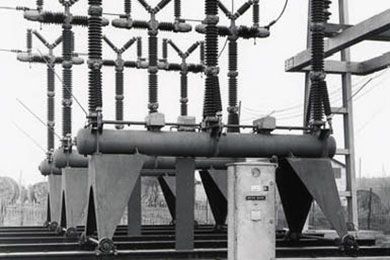 1943
BBC builds the first 110 kV high-speed air blast circuit breaker.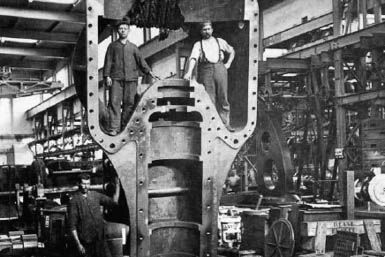 1939
BBC builds the first combustion gas turbine for generating electricity.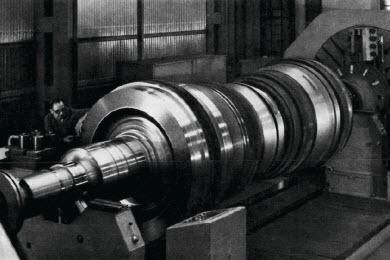 1933
BBC obtains the patent for turbine rotors constructed from individual steel disks that are welded together.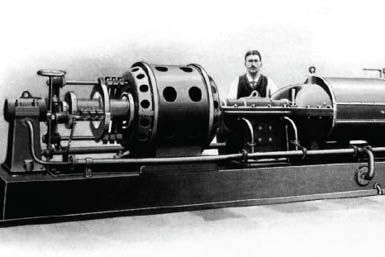 1901
BBC builds the first steam turbine in Europe.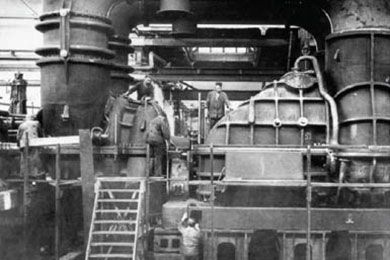 1893
BBC supplies Europe's first large-scale combined heat and power plant producing alternating current.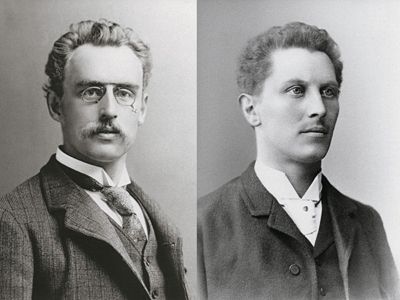 1891
Charles E. L. Brown and Walter Boveri establish Brown, Boveri & Cie in Baden, Switzerland. Shortly afterward, Brown, Boveri is the first company to transmit high-voltage power.